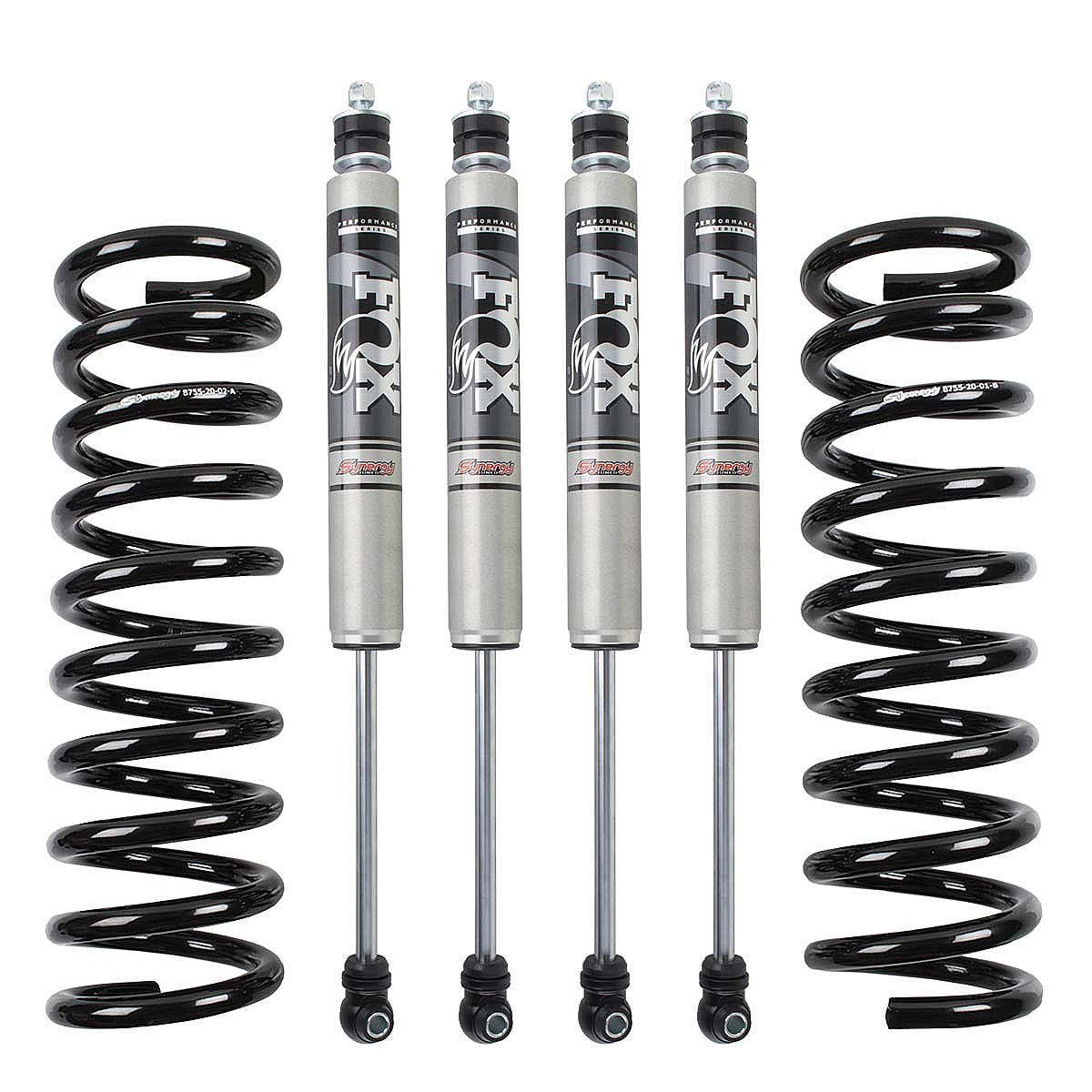 Synergy 2014+ RAM 2500 Leveling System
May have applicable lead time. Direct ships from Manufacturer
---
The Synergy Ram Truck Leveling System levels the stance of the truck and significantly improves ride quality and control with no loss in towing capacity. Proprietary Synergy Tuned Fox shocks have been paired with matched coil springs to create a system that significantly outperforms the competition. We guarantee you will love the way your truck rides. This system is designed to fit 35 inch tires. 37 inch tires will fit with minor inner fender trimming.

Benefits:

Raises the front suspension to level the truck
Increases ride comfort and control
Compatible with factory air ride leveling 
Increases small bump compliance and bottom out resistance
Increases wheel travel
No loss in towing capacity
Will allow installation of 35 inch or 37 inch tires
Affordable Quality, made in the USA

Features:

Driver and Passenger side Specific Coil Springs.
Proprietary Synergy Tuned Fox Shocks matched to the Ram's spring rates and weight provide incredible ride quality and control.
Front wheel travel is increased 40 percent from 7 inches to 10 inches.
Rear wheel travel is increased from 8.5 inches to 10 inches on 2500 trucks and from 6.5 inches to 10 inches on 3500 trucks.
Progressive wound linear coil springs are manufactured using the latest in CNC hot winding technology for optimized on and off road performance.
Coil springs are softer than stock and raise the front of the truck 2.25 inches based on the weight of a 2500 Diesel Crew Cab configuration.
Coil springs are cycled to set height and can compress to solid without overstressing.
Coil springs feature an abrasion-resistant powder coat finish for maximum durability and corrosion resistance.

Includes:

(2) Front Driver/Passenger Side Specific Coil Springs (8755-20)
(2) Synergy Tuned Fox Front Shocks
(2) Synergy Tuned Fox Rear Shocks

Notes:

This basic leveling system can be further upgraded with additional components available from Synergy. A heavy duty adjustable track bar is available to re-center the front axle under the vehicle, Radius Arm Drop Brackets are available to correct the radius arm geometry and heavy duty replacement steering is available to replace the weak and problematic stock drag link and tie rod. We also recommend the use of MOPAR upper isolator 68268825AA. This is the factory Power Wagon unit and has thicker material to better hold up and eliminate spring bowing.