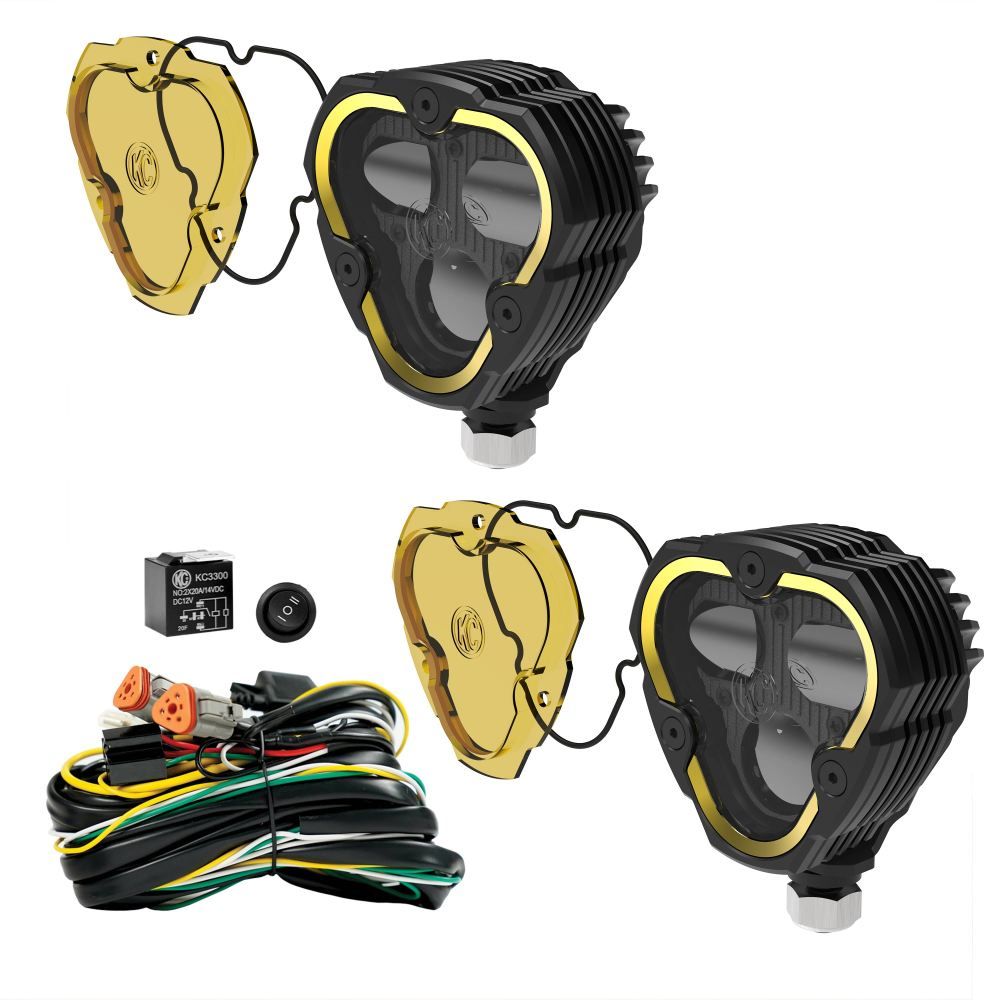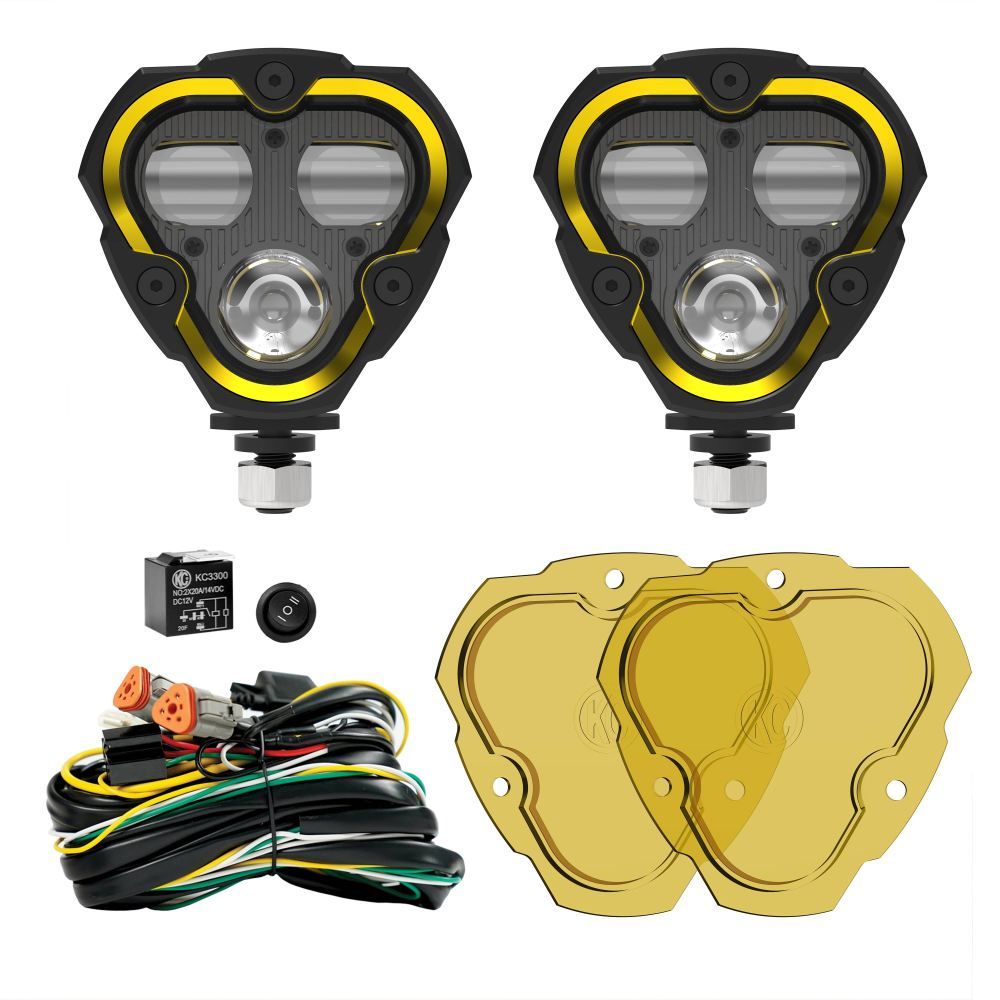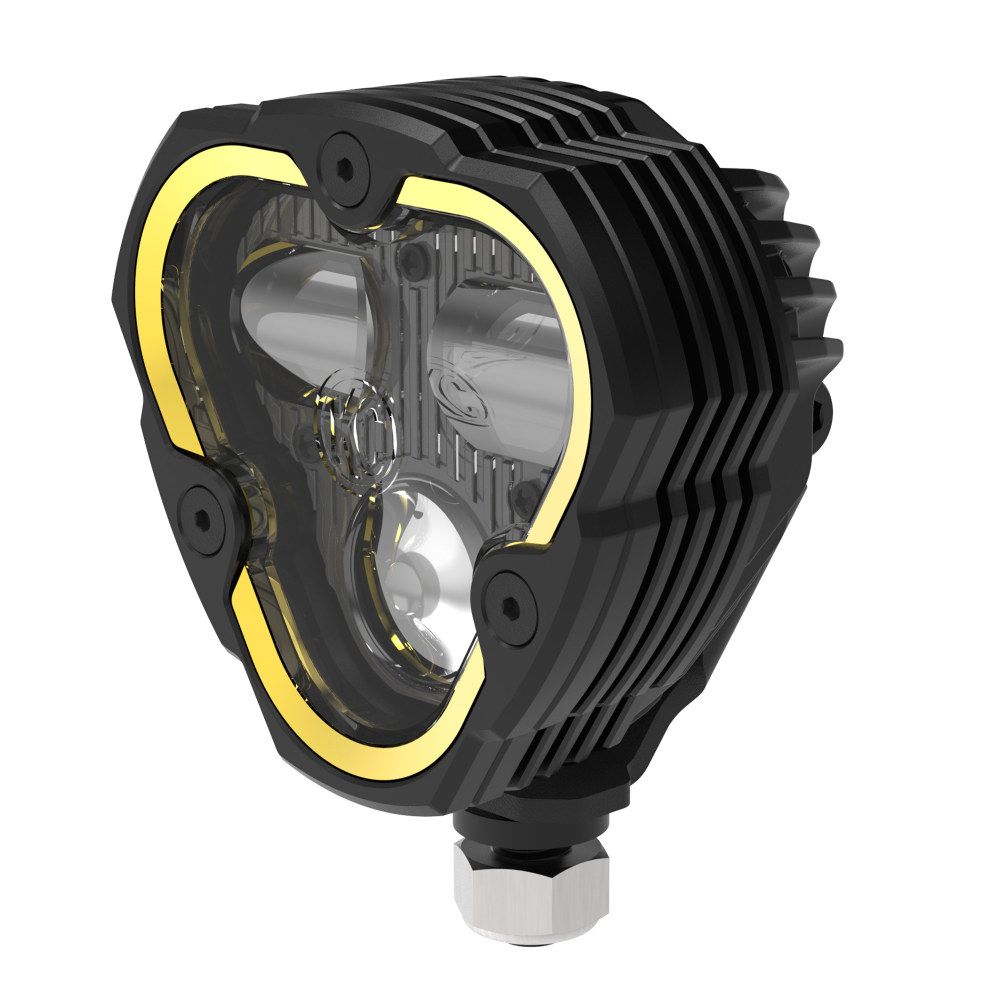 KC HiLites FLEX ERA® 3 Dual Mode SAE Fog Lights - 2-Light Master Kit
May have applicable lead time. Direct ships from Manufacturer
---
Flexibility radiates from the core of the FLEX ERA® Family, and the KC FLEX ERA® 3 Dual Mode SAE Light clocks in for multiple jobs at once. This kit comes with everything you'd want out of a street-legal fog light. Rock the pre-installed clear lenses for pure performance on those foggy mornings before the caffeine hits, or use the included Selective Yellow lenses for greater visibility in heavy rain, fog, snow, and dust. Light up the roadways with the SAE J583 fog beam as your "low beam", then flip the switch for an off-road, high-output "high beam" when you cross into the dirt. The FE3 DM SAE is built to be everything you need, all-in-one.

Blurring the lines of what a fog light is and isn't, the FLEX ERA® 3 Dual Mode SAE Fog Lights will defy everything you know a fog light to be. You no longer have to pick between Team Clear (white output) and Team Yellow when it comes to the color options - our Master Kit includes both sets of lenses to allow you to try out both options in all kinds of scenarios to pick which one is best for you. 


FEATURES

-Master Kit includes both Clear and Selective Yellow Lenses

-Dual Modes for on- and off-road performance

-Signature FLEX ERA 3 sizing and styling

-Changeable colored accent bezels to match your build (Sold Separately)

-Available in a variety of vehicle-specific bolt-on kits

LIGHT PERFORMANCE (PER LIGHT)

-RAW Lumens: 3,682 lm Fog / 5,949 lm Dual Mode @5000K

-Beam Pattern: SAE Driving / Fog and Off-road

SPECIFICATIONS (PER LIGHT)

-Wattage: 35W / 55 W

-Amp Draw: 2.9 a / 4.5 a @ 12V

-Voltage: 9V-36V

-IP Rating: IP65

-Product Dimensions: W - 3.6" x H - 3.5" x D - 2.6"

PARTS INCLUDED

-(2) KC® FLEX ERA® 3 Dual Mode SAE LED Light

-(2) SAE Clear Lenses (pre-installed)

-(2) SAE Selective Yellow Lenses

-(2) Lens Replacement O-Rings

-Complete Plug-N-Play Wiring Harness with LED Switch


FOGGY NIGHTS OR DUSTY TRAILS
From foggy mornings on the roads to dusty nights in the dirt, we have you covered by including both Clear Lenses and Selective Yellow Lenses. Use the Clears for the maximum amount of brightness and for the purest version of the FE3 DM SAEs. Switch it up and run the Yellows for peak penetration through heavy rain, fog, snow, and dust.

ON-ROAD & OFF-ROAD
With an intense on-road SAE J583 Fog Beam, and an off-road use-only mode combining the fog beam with a high-output spot beam, the FLEX ERA® 3 Dual Mode SAE Lights are the best of both worlds and can be used wherever your path takes you.


BEAUTY MEETS PERFORMANCE
Front to back the KC FLEX ERA 3 DM SAE is 100% unique. It features a specialized triangular design unlike any other on the market and has performance-oriented heatsink fins for shedding heat quickly and efficiently.


PERSONALIZE YOUR LIGHT
Keeping with our tried and true FLEX LED® tradition, you can change and stylize the colored accent bezel to match your rig. The FE3 bezels come standard in gold, but you can pick up the bezels in red, blue, or black to suit your needs.


JEEP, TOYOTA, SUBARU, AND MORE
For some of the most popular applications out there, our vehicle-specific kits make swapping out your factory fog lights a breeze. From JKs/JLs/JTs to Tacomas and 4Runners to Subarus, check out our options that include all brackets and wiring needed for an easy install.