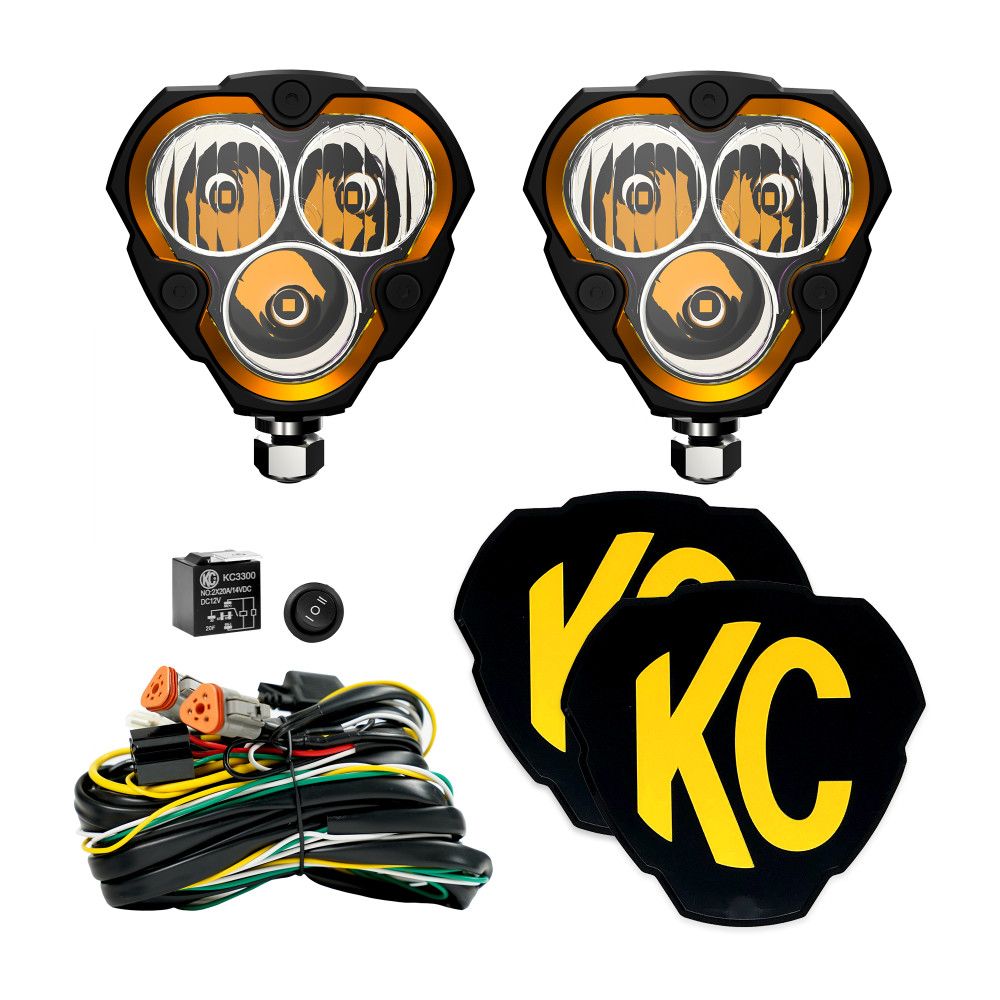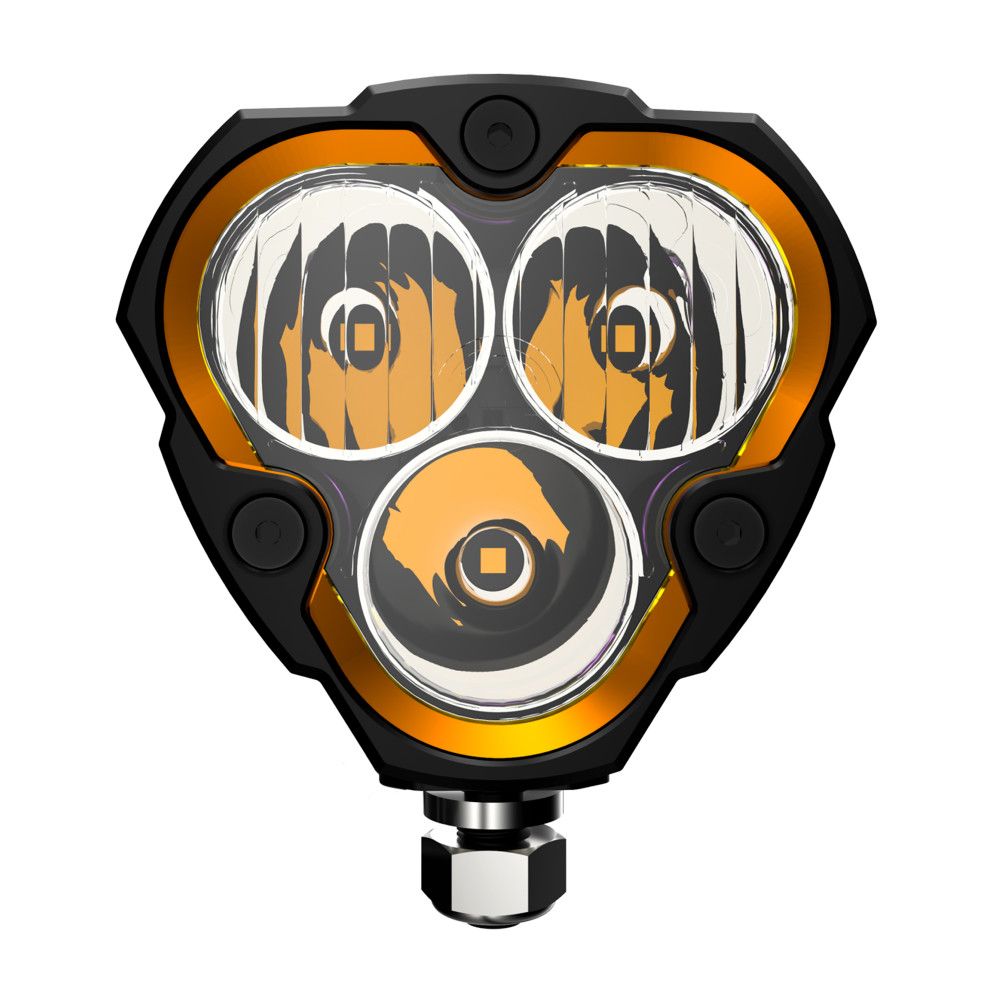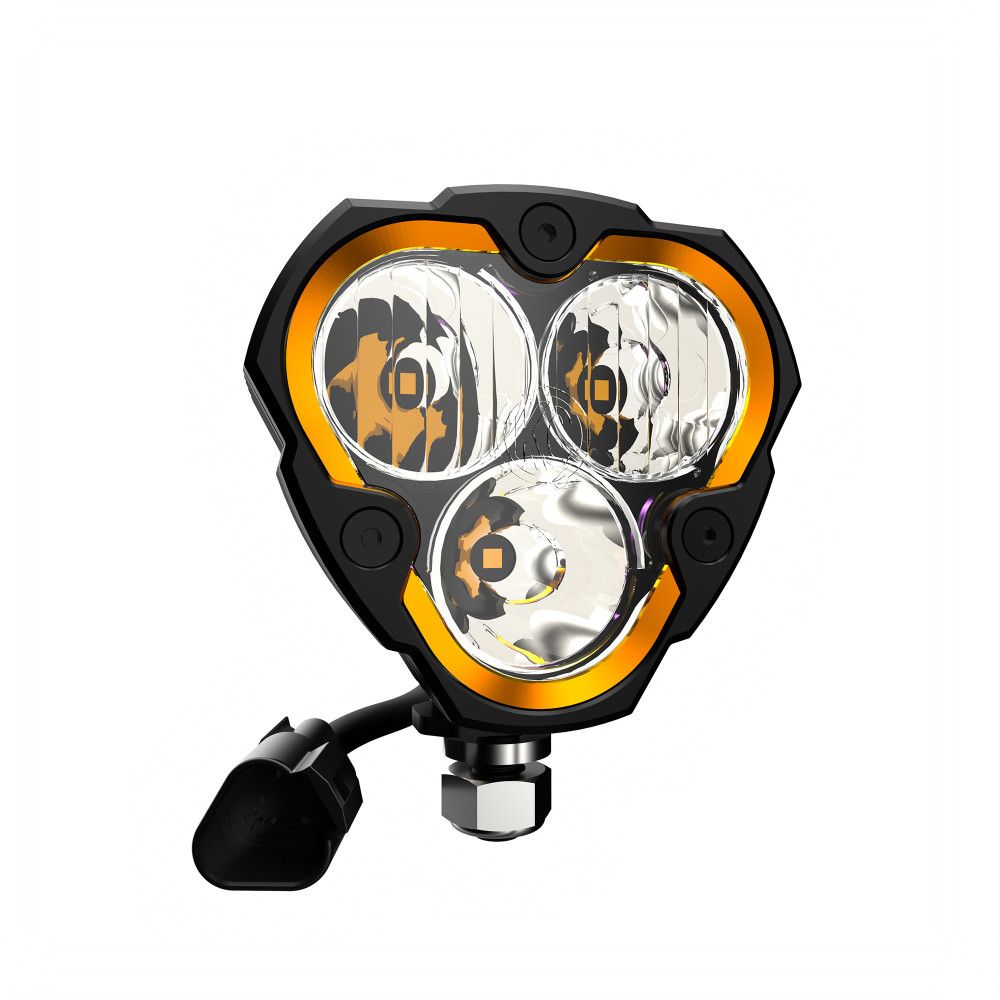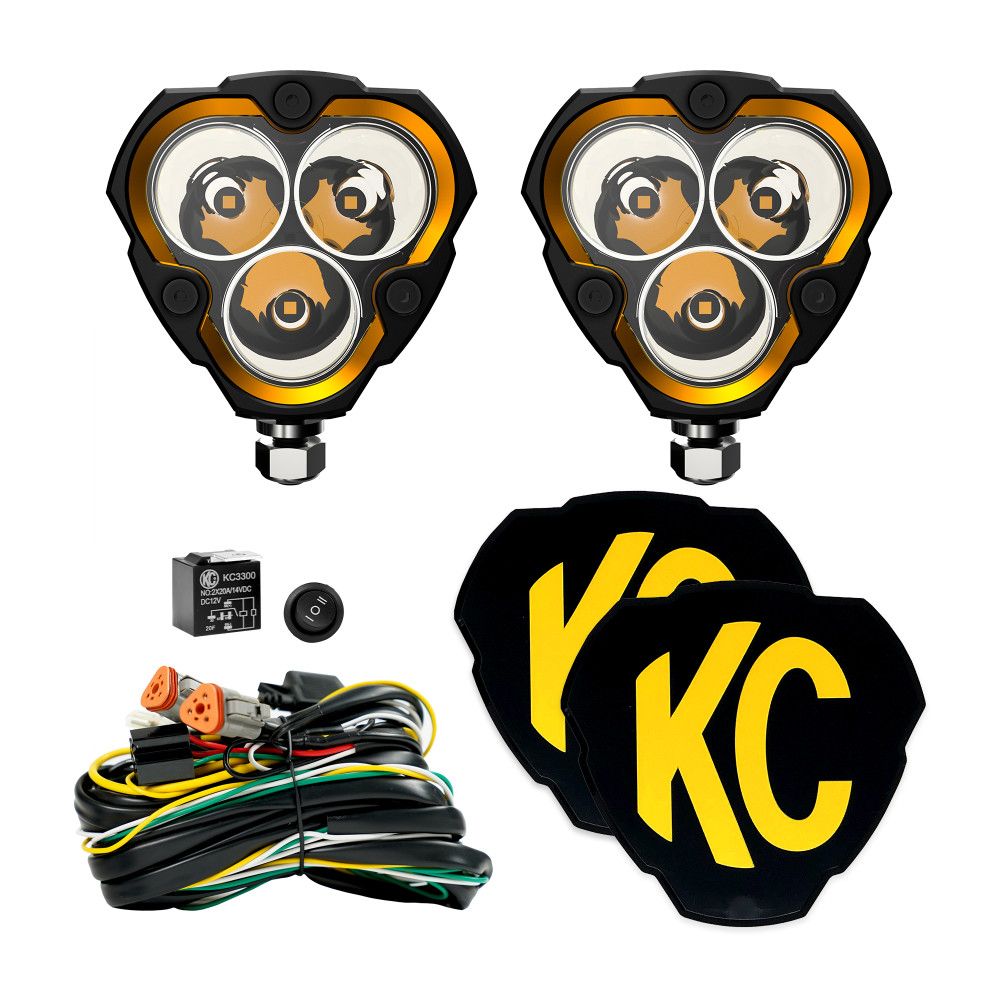 KC HiLites FLEX ERA® 3 - 2-Light System
May have applicable lead time. Direct ships from Manufacturer
---
The KC® FLEX ERA® 3 is the most compact, high-performance LED light in the KC family. Featuring the latest high-power CREE® LEDs densely configured in a triangular orientation. The FLEX ERA 3 was born to race Baja and perfect for your next off-road adventure. The combo configuration features two spread and one spot beam to give you maximum coverage from a single light.

The small and mighty

 

KC® FLEX ERA® 3

 

features an optimized compact triangular design with best in class light output. Designed for flexibility, you can change beam patterns and style easily with swappable lens optics, bezels, and covers. Ushering in a new ERA in off-road lighting, the FLEX ERA 3 was born to race Baja and is a perfect complement on your next adventure.

FEATURES

-Independent Amber LED Backlight

-Signature KC FLEX Aesthetic

-Machined Accent Bezel

-Customizable Beam Patterns and Trim Colors (Sold Separately)

-Thermal LED Protection

-IP68 Rated

LIGHT PERFORMANCE (PER LIGHT)

-RAW Lumens: 3,672 lm @5000K

-LUX @ 10 meters: 300 lx

-Candela: 29,553 cd

-Beam Distance (Meters): 385m

-Beam Pattern: Combo

SPECIFICATIONS (PER LIGHT)

-Wattage: 40W

-LED Source: CREE® LED

-Amp Draw: 3.4A @ 12V

-Voltage: 9V-16V

-IP Rating: IP68

-Product Dimensions: W - 3.6" x H - 3.5" x D - 2.6"

PARTS INCLUDED

-(2) KC® FLEX ERA® 3 Dual Mode LED Light

-Complete Plug-N-Play Wiring Harness with LED Switch


FOGGY NIGHTS OR DUSTY TRAILS
From foggy mornings on the roads to dusty nights in the dirt, we have you covered by including both Clear Lenses and Selective Yellow Lenses. Use the Clears for the maximum amount of brightness and for the purest version of the FE3 DM SAEs. Switch it up and run the Yellows for peak penetration through heavy rain, fog, snow, and dust.

ON-ROAD & OFF-ROAD
With an intense on-road SAE J583 Fog Beam, and an off-road use-only mode combining the fog beam with a high-output spot beam, the FLEX ERA® 3 Dual Mode SAE Lights are the best of both worlds and can be used wherever your path takes you.


BEAUTY MEETS PERFORMANCE
Front to back the KC FLEX ERA 3 DM SAE is 100% unique. It features a specialized triangular design unlike any other on the market and has performance-oriented heatsink fins for shedding heat quickly and efficiently.


PERSONALIZE YOUR LIGHT
Keeping with our tried and true FLEX LED® tradition, you can change and stylize the colored accent bezel to match your rig. The FE3 bezels come standard in gold, but you can pick up the bezels in red, blue, or black to suit your needs.


JEEP, TOYOTA, SUBARU, AND MORE
For some of the most popular applications out there, our vehicle-specific kits make swapping out your factory fog lights a breeze. From JKs/JLs/JTs to Tacomas and 4Runners to Subarus, check out our options that include all brackets and wiring needed for an easy install.